Realistic Perspectives on Jump Starting Conversations
September 19, 2018

|

Marketing Happiness | Buying Dynamics |

"Blazingly fast" is how Eric Herzog, VP of Product Marketing & Management at IBM Storage Systems, describes the new IBM FlashSystem 9100. And the data points are backing him up. Driven by IBM's FlashCore Technology and a 100% NVMe (Non-Volatile Memory Express) end-to-end, the FlashSystem 9100 is providing 100 millisecond latency with up to 10M IOPS in an 8U cluster. This gives customers amazing speed for transactional workloads, and with a huge bandwidth of 136GB per second, those performance-intensive AI and machine learning applications deliver data to the business users faster than ever.
As Impressive and industry-leading as this is, the business value that customers receive and where the FlashSystem 9100 truly shines through is with programs such as IBM FlashWatch, encompassing Data Reduction, Controller Upgrade Protection, High Availability, and Advanced Support.
Data Reduction Resulting in Guaranteed Cost Savings
CFO's will appreciate the savings that can be achieved through the financial impact of data reduction.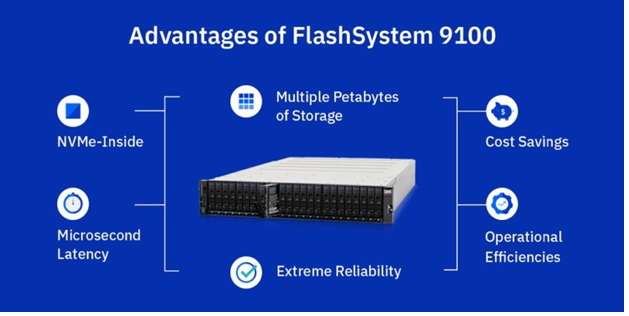 Through a comprehensive range of capabilities, among which are the innovative new Data Reduction Pools (DRP), IBM is able to offer guaranteed capacity savings of up to 5:1. DRP's incorporate deduplication and hardware-accelerated compression technology, along with SCSI UNMAP support, thin provisioning and data efficiency features. The pools enable the automatic de-allocation and reclamation of thin provisioned volumes containing deleted data, and for the first time, enable this reclaimed capacity to be reused by other volumes. Delivered by IBM Spectrum Virtualize, IBM says that these benefits can be extended to over 440 heterogeneous storage arrays from multiple vendors, extending that savings across the entire storage environment.
Guaranteed Controller Upgrade Protection
As part of the FlashSystem 9100 maintenance program, IBM is offering its customers the ability to upgrade the controllers in the arrays to equivalent technology. At the end of the three-year hardware and software maintenance, customers who wish to continue that service will have the opportunity to execute the upgrade option; protecting their core business investment.
All-Flash Array High-Availability Guarantee
What CIO isn't worried about system downtime? IBM has addressed this concern by offering an all-flash array High-Availability Guarantee. When deploying a high-availability configuration through IBM's HyperSwap, and when implemented by IBM Lab Services, clients can receive a zero storage system downtime protection through the program.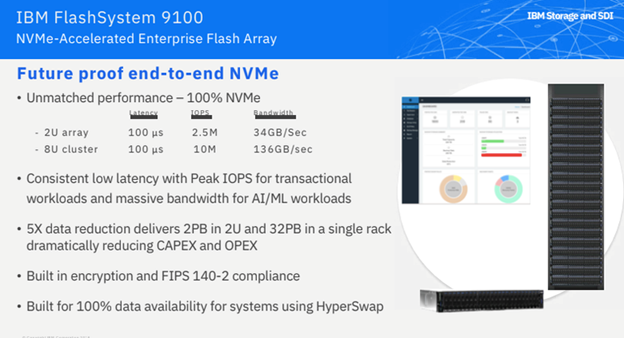 Naturally, there are program guidelines that must be adhered to, but our experience is that these guidelines help to better align HA best practices with corporate uptime goals.
Advanced Support Technology through IBM Storage Insights
As is often the case with technology, the cost of managing storage infrastructure exceeds the cost of purchasing the storage capacity. With some studies indicating utilization rates of around 50%, IT organizations need advanced support capabilities to help manage that capacity, and this is being delivered by IBM Storage Insights.
IBM Storage Insights utilize predictive analytics built on a history of IBM storage management expertise. Through implementation of the data collector (a process that normally takes about 30 minutes), storage usage metrics are sent securely to the IBM Cloud, which then provides storage analysis to the client.
In a single pain of glass, clients identify and categorize storage assets, monitor capacity and performance, increase precision of capacity forecasting, and optimize data placement based on historical values. Additionally, this provides IBM support staff the ability to make proactive recommendations and deliver resolutions more quickly to the client.
Peace of Mind
Other programs, such as Flash Endurance, provide a flash wear guarantee, and data migration provides capabilities to migrate data from over 400 different IBM and vendor storage systems. These give clients the peace of mind that not only are they purchasing an extremely fast and reliable all-flash array but are also receiving true business benefits that drive down the cost of managing storage and delivering data to the enterprise.
References
3 Content Marketing Trends That Will Rule 2018
2015 TechTarget Media Consumption Report: Guided by content – How IT buying teams navigate through the research and purchasing process