What Screen Toggling Means for B2B
October 5, 2018

|

Social Media | SEO Content |

Recently, an interesting article caught the eye of our content creation team. It was an interview with the director of product design at Facebook by social media magazine Mashable, where the director mentioned that websites were becoming irrelevant because of the growth of social media. He sees a move to mobile and social and that move will spell doom to the familiar sight of a webpage.
99.5% of users access content/information from mobile
There is indeed a change in the wind of technology, which means businesses like yours are trying to see how these changes will affect outcomes and the working environment. Is the above article correct? Will social media kill off websites? Certainly, you've seen the news about the rise of mobile and the decline of the PC market. For instance –
With the above statistics, it may seem as though the writing is on the wall – no one is using pcs anymore and everyone has moved to smartphones and tablets.
But have they?
Design for Mobile, Screw the PC
A new consensus for B2Bs is to concentrate on the mobile market, with site design set to look good on mobile first before moving to the PC. Mobile apps are becoming the norm with companies making sure mobile customers are targeted.
You design for mobile and screw the PC, right?
Not exactly.
Our content team brought up some very good points in response to the Mashable article –
Businesses aren't going to start replacing their desktop PCs with mobile devices.
Gamers will continue playing complex, graphically intense games on a desktop, not mobile devices or laptops
Servers aren't attached to mobile devices
85% of enterprise companies says desktop applications are "absolutely essential"
Members of our team are gamers, like those listed above, and they have no plans to start playing graphically intensive games on a mobile device. To back that up, in 2016 Statista determined that gamers are more likely to use their PCs – yes, those failing in sales PCs – to play games. Here's the chart –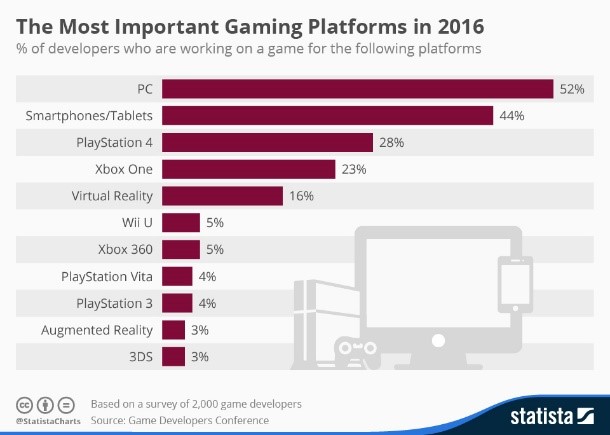 As the above proves, this means that not all of your customer base is on mobile. PCs are still a gamer's preferred device, thanks to larger screens, more graphic intensive gameplay, and the ability to choose the input method (such as game controllers over the keyboard/mouse). At this point in time, this is not an ability we have on mobile devices.
But it's not just gaming that lures people back to desktops – businesses still rely on desktop computers, especially larger enterprises. Smaller companies, with 10 employees or less, 71% stated that desktop applications were "absolutely essential" compared to the 85% of enterprise companies with 1,000 employees or more.
Another thing is desktop browsers are essential for testing and supporting web applications.
New web technologies, such as HTML5, JavaScript, and CSS, came about to help developers to deliver even more sophisticated web applications and programs; desktop browsers are critical to helping developers test and support web applications. The desktop is still a device that's very much in play, even with the rise of mobile.
What many businesses fail to see and realize is how both mobile and PCs are working together.
Why Your Customers Use Both
In 2015, 66% of Americans owned multiple devices, including desktop/laptop, smartphone, and a tablet
As of November 2016, 77% of American adults own a smartphone, which is up from the 35% in 2011 when Pew Research first did a study on cell phone ownership. By the end of the year, while smartphones became the most commonly used devices, PCs and laptops were next, with only a seven percent difference (smartphones at 91%, computers 84%).
Since 2012, the number of Americans who own multiple devices – such as desktops, laptops, smartphones, or tablets – at the same time has more than doubled. Pew Research conducted a survey at the end of 2015 and found that –
66% of Americans owned at least one of the above devices
36% owned all three (with desktops and laptops grouped together)
Many of us at Change3 own all three of these, for different purposes – as a business, we need our desktops or laptops to work with each other and our clients. There are several different applications that we need that only work on these devices.
The rise of the 'second screen', where users use tablets and smartphones while watching TV, has now become a new norm – in 2015, Accenture reported that 87% of TV viewers used a mobile device while watching their favorite shows. This same phenomenon happens between desktops and mobile – it's not uncommon to do one thing on your desktop, while doing something else on your phone.
But how are customers using both devices?
87% of TV viewers use a second screen while watching their favorite shows
As noted above, people will often watch television while using their smartphone or tablet; this could be anything from doing live tweets to looking up information about the show. Those who work from home may just have the TV on as background noise, so they don't have to work in silence.
Our favorite love and hate relationship with email began this trend, when Blackberry users were able to check their email when away from the office, a crucial factor for any business professional. As the technology became more sophisticated, other applications were able to utilize this synchronization format.
Thanks to synchronization between operating systems, like Android and Windows, and applications - like email, Dropbox, Evernote, and others - users can stay connected to their interests regardless of what device they're using. Dropbox and Evernote, two of the most popular applications, surged to popularity because of their ability to be used on computers, mobile devices, and within a browser.
Team members at Change3 will often start something on their computers and then move to smartphones or tablets. One team member bookmarks recipes on her PC and then uses her Android phone to view them while cooking in the kitchen; another member starts out using the desktop version of an application and then, when out and about, uses the mobile version.
As we've demonstrated, you shouldn't discount the desktop for mobile. While popular for mobility, in terms of business, desktops are still the all-stars for small businesses and enterprises.
Our Data Analytics team discovered that, for one of our clients, viewership of their newsletter was often done in web browsers versus mobile email. This was an interesting tidbit that adds to our conversation – why were these readers not using their mobile devices or smartphones to view the newsletter? Was the age of the device? For example, trying to view the newsletter on an older Blackberry and not a newer Android or iPhone?
Desktops and laptops aren't completely dead as reports might suggest, even as consumers and businesses enjoy the flexibility of mobile. But what do you think? Does your brand feel mobile is in and PCs are out? Let us know in comments below!
Resources:
Gartner Says Worldwide PC Shipments Declined 9.6 Percent in First Quarter of 2016
Mobile Now Exceeds PC: The Biggest Shift Since the Internet Began
Smartphone, computer, of tablet? 36% of Americans own all three
8 Reasons Why the Desktop PC Remains a Major Business Tools
Moving to Mobile Significantly Impacts B2B
New Windows Upgrade Will Bring Scant Relief to Ailing PC Market
Device ownership – Pew Research
References
3 Content Marketing Trends That Will Rule 2018
2015 TechTarget Media Consumption Report: Guided by content – How IT buying teams navigate through the research and purchasing process