Content to Dominate in 2018
November 13, 2018

|

Digital Strategy | SEO Content |

At the time of this writing, 2018 is almost gone, with only two months left in the calendar year. Soon, companies will be looking back at what plans and strategies worked, which ones didn't, and what they can do to improve their ROI and bottom lines for 2019.
Earlier in the year, Spiceworks looked at 10 trends that B2B tech marketers needed to look at and what would dominate the year of 2018. As marketers look back at the current year and ahead to the next, the same trends stay consistent across many of the same lists. This is especially true in the age of digital marketing; despite the ever changing landscape of marketing, some things continue to be true and one of those things is content.
When it comes to content marketing, the trends can evolve and change, but can also stay the same. In this blog, we'll look at some of the trends that marketers should still pay attention to in 2019, including:
Growing content choices
Personalization
Voice search
Brand transparency and advertising
What the Trends Say
When Spiceworks first conducted this study, they discovered that the top three marketing efforts that tech marketers were excited to explore in 2018 were video, content, and ABM (account-based marketing). Both video and content ranked within a top five picks for important or extremely important marketing tactics to pursue.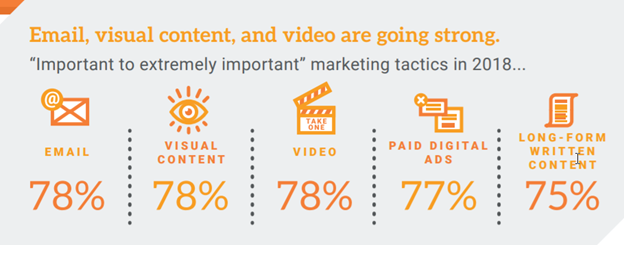 As you can see from the above image, both visual content and video matched with email as important factors in 2018. Not far behind was not of long-form written content, such as blogs and whitepapers. In this article from Forbes, marketers should look at the fact that more and more consumers are putting their trust in businesses they know and content they can learn from. And as marketers, we know that content comes in many forms – from blogs to infographics to videos; some experts believe video will do to content what it did to the radio star. But while videos are a great way of getting your message across to buyers, it's not the only way to present content.
To go along with content, personalized experiences with content is the next trend for marketers to keep an eye out for. Personalization has been growing with consumers for quite some time; from visiting a vendor website to opening an app, the ability for a customer to feel as though a company knows who they are, their preferences, and their interests. Amazon is a great example of this when you sign in:
Amazon knows your name and how long you've been a member
It'll display your browsing history, with the last thing you looked at
If you're a Prime member, it'll show you the last show you were in the middle of watching
The site will show you recommendations based on what you're previously bought or viewed
In a survey by Monetate, 94% of digital professionals believed that personalization was a critical to current and future success for their business. Customers demand personalization, with 53% of online shoppers believing in the value of personalization and 57% of shoppers are willing to give out personal information in order to gain its benefits.
Another trend for content is the rise in voice search. AI technology like Amazon's Alexa, Microsoft's Cortana, and Google Assistant are changing the way people search, in fact nearly 20% of Google searches on mobile are voice searches. Maybe not surprising, but younger generations tend to use voice searches more than their older counterparts, with 31% of teens using it to get help on their homework. The most popular use for teenagers was to call someone, while adults used it mostly for getting directions.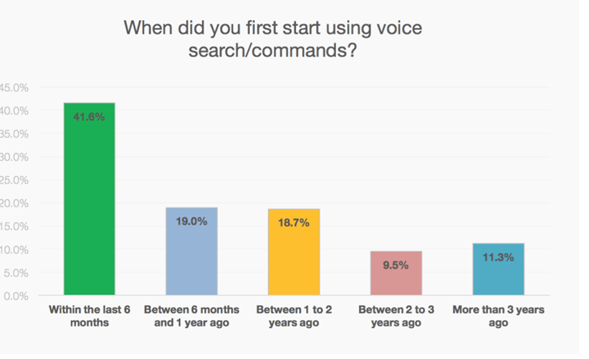 Transparency and brand advertising are another important trend for marketers to pay attention to. In one of our last blogs, we showcased how consumers are becoming frustrated and annoyed with digital ads.
This corresponds to the rise in ad blockers, tools that allow users to block the showing of ads on any website they view, and about 30% of all internet users use some type of blockers regardless of which browser they use. Previous strategies and methods used by marketers to reach their target audiences will fall short of expectations; consumers are starting to distrust key words or statements that organizations use to describe their transparency.
What happens to a company that doesn't show this transparency? Just take a look at popular YouTube channel and company, Machinima. Machinima is a multiplatform online entertainment network whose original programming gained popularity through their YouTube channel. One of the programs was a live action series based on the popular video game series Mortal Kombat and was aired exclusively on their YouTube channel, gaining over 60 million views. However in 2015, the company was hit with a suit by the FTC (Federal Trade Commission) for not disclosing the fact they paid YouTube influencers to endorse Microsoft's Xbox One game console.
The case with Machinima is that consumers no longer accept or tolerate businesses not being truthful with them. In an age where personal information is being shared with third parties, consumers are more aware of what businesses are trying to sell them.
What these trends mean for marketers
So what do these continuing trends mean for marketers today and tomorrow? It means that content marketing has become the de facto marketing tactic. Not only that, but things like video, personalization, and voice are actually just components of that content marketing; for marketers, these new ways to engage with users and customers are the keys to more effective strategies when it comes to connecting with buyers.
Content can be the tool needed to boost your marketing strategies to propel your organization to marketing success. These are just some of the benefits to using content:
Build and earn trust with readers and potential customers
Build up your brand identity and authority
Generate more traffic to your website
Generate more quality leads
Above all, content marketing can bring the masses to you and your organization. Let us know what your 2019 marketing plans are – will you be starting or growing your content marketing? Will you be using the trends listed or something else?
Resources
5 Marketing Trend to Pay Attention to in 2019
6 Essential Marketing Trends for 2019
13 Biggest Content Marketing Trends that Will Dominate 2018
5 Content Marketing Trends to Watch in 2019
References
3 Content Marketing Trends That Will Rule 2018
2015 TechTarget Media Consumption Report: Guided by content – How IT buying teams navigate through the research and purchasing process