How Non-Tech Influencers are Affecting Purchasing
February 1, 2019

|

Buying Dynamics |

The roles of IT purchasing have changed considerably, with the focus on the individual buyer being replaced with teams. These buying teams aren't just comprised of members from the IT department, but from other points of the organization, including IT, finance, HR, and others. Looking at various research and reports on these new teams, a picture of how these non-technical departments are helping to drive and influence the purchasing process: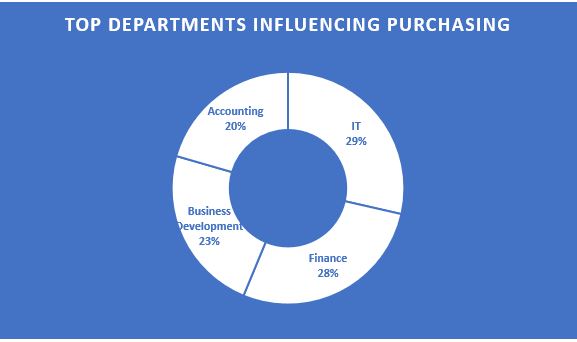 From the chart above, it's clear that the IT department is still a primary focus when it comes to influencing the buying process, however non-technical departments are quickly becoming more involved.
How are non-technical influencers affecting purchasing?
While the departments that affect purchasing differ by industry, non-technical influencers are making buying decisions across the entire organization. This means that marketers can't just keep their focus on a single individual executive anymore, they need to consider all of the influencing members and groups within the organization.
Along with the differences in departments, there comes a difference in perspective by generation; Forrester reported that 73% of millennials are now involved with B2B purchasing decisions, with a third of them reporting that they were the sole decision maker within their department. Millennials and Gen-Z will make up 75% of the workplace by 2025, working alongside members of Generation X, and whose tech savviness is aligned with that previous generation.
These generational groups are usually the first into earl adoption, being open to new brands, and learning about new products via social media.
How do non-technical buying teams learn about products?
Content has become a major resource for non-technical influencers to learn about products, services, solutions. We looked at how content was helping to give knowledge to these influencers, discovering that content was a big factor in educating IT buyers on which solutions and services might help them achieve their business outcomes.
Stages of Content Consumption

Early Stage
91%

Middle Stage
85%

Late Stage
42%
During these stages, buyers looked at product details, whitepapers, and even trials or demos to further their considerations and comparisons between vendors. Other materials like infographics, videos, and product sheets entice buyers to learn more about what vendors are offering and what those services can do for their business.
We looked across a number of resources and found that the type of content matter, where buyers want more info on product, its features, and functions, along with demos and studies on the best practices for use.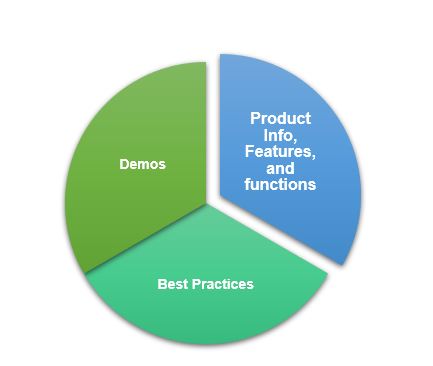 What are buying dynamics changing for marketers?
The changing dynamics for buying means that marketers need to consider all aspects of purchasing teams. Their focus must not be on just the IT department, but other non-technical departments, like finance and HR. They also must recognize that buyers are looking to learn more about their products, so producing content that describes and outlays their information, features, and functions should be the primary point of exploration.
New dynamics within purchasing teams, especially those who are non-technical department members, are changing the way decision makers are approaching the buying process. This also means a change in how they research and interact with marketers and what they expect when learning more about a product or service.
Resources:
Rethink the B2B Buyers Journey
What are Influencers and How Do They Affect the B2B Buyer's Journey?
Millennials and Gen X Decision Makers Achieving MORE, Together
References
3 Content Marketing Trends That Will Rule 2018
2015 TechTarget Media Consumption Report: Guided by content – How IT buying teams navigate through the research and purchasing process