How the Customer Experience has Changed Marketing
January 29, 2019

|

Marketing Happiness | Digital Strategy |

With a new year comes opportunities for marketers to take advantage of new strategies, especially where it comes to customers. The customer experience has been a hot topic as of late and we decided to look deeper into how this experience was being reflected by marketers. We looked across a number of different sources, finding that the customer experience is at the forefront of every organization.
Customer expectations have changed how marketers and businesses interact with them. As Sridhar Ramaswamy, senior VP for Google Ads noted:
"Consumers have never been so hard to please and marketers have never had as many opportunities to please them." – Sridhar Ramaswamy, senior VP, Google Ads
Gathering research points across Smart Insights, Forrester, Adobe, Genesys, and Google Insights, a number of things hold true for customers: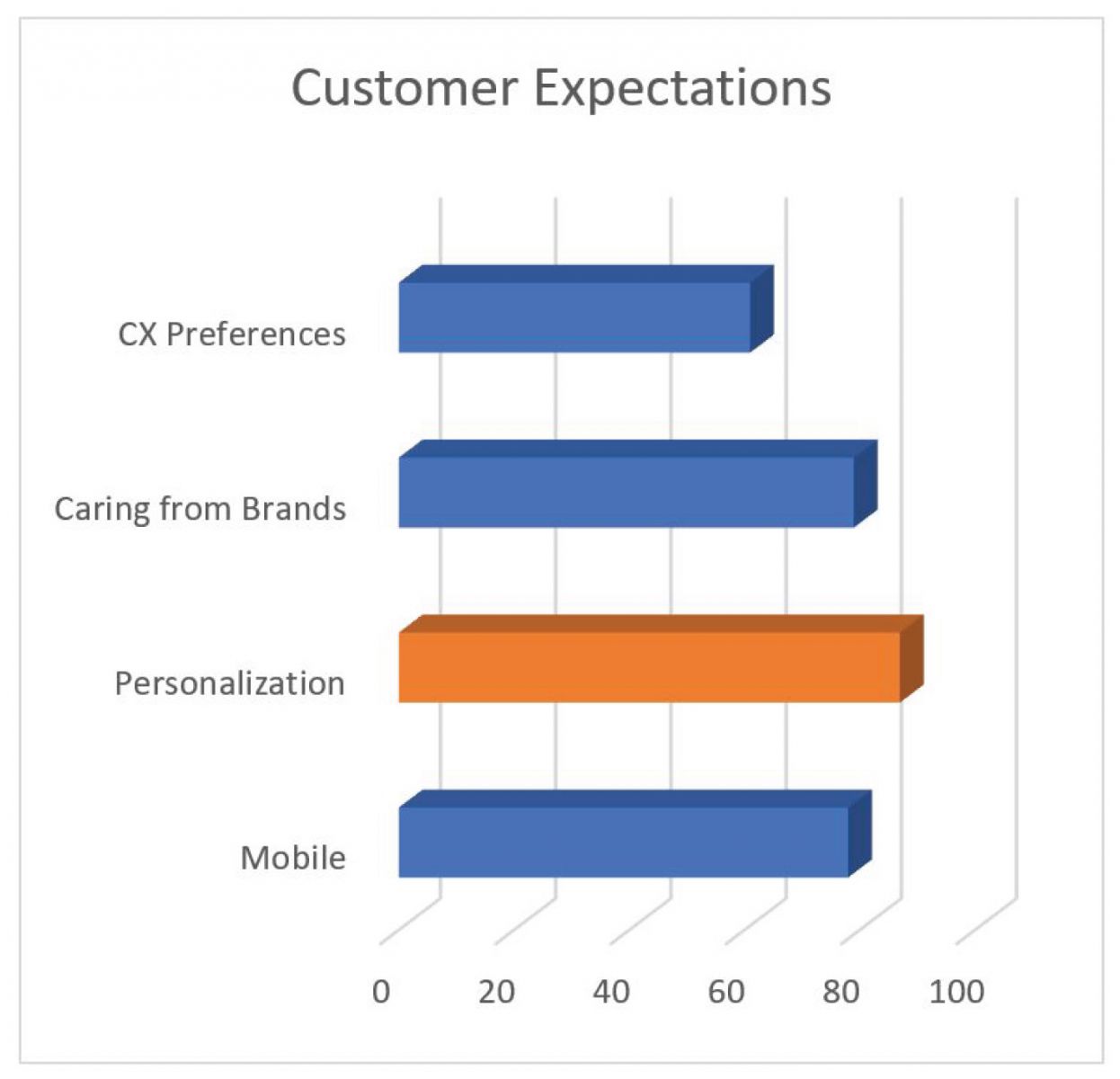 The above chart looks at the top most common areas customers expect when it comes to buying and what they're looking for from brands:
78% of consumers use mobile devices when interacting with businesses for customer service and support
87% of users (across millennials and those who are 35-54 years old) prefer anticipation and customization.
79% of consumers want to see that brands actually care before they make a purchase
61% of people expect brands to tailor experiences based on their preferences
What does this all mean?
How is the customer experience changing marketing?
A major theme we discovered is that personalization has become a big factor in the customer experience, as it helps to increase satisfaction and repeat business, especially when done efficiently and effectively. Look at companies like Netflix and Amazon, where personalization is tied into the customer experience on their sites; everything from showing a list of the last shows you watched to recommendations, both of these companies have made it easier to find items across the site, with very little hunting.
This is especially true for millennials, where 28% of them agree that personalized retail offers are appealing when they are based on their purchase history. According to the Genesys State of Customer Experience, 38% of consumers are comfortable with sharing their location if it means they receive a more personalized experience.
How has marketing been changed by the customer experience?
The research shows that the more customers change their preferences and expect businesses to observe, the more businesses are trying to appease them, with organizations hoping to address and implement strategies to meet or exceed these expectations.
From the graph above, we found that:
33% of marketers believe that improving their understanding and engagement to the right customers is more important than reaching their marketing goals for the next 3 years.
More than 40% of marketers are using customer research to drive their decisions
19% rate exploring customer experience as the single most exciting thing they look forward to in the year
According to research done by Google, 90% of marketers state that personalization significantly contributes to business profitability. Why? It goes back to the very reasons for customer preference on personalization; customers perceive that brands care when showing they actively pay attention to their preferences. Again, look at Amazon – when a customer logs in to their account, they're immediately greeted with their recent history, whether it be search history or video watching history, as well as recommendations based on what was previously browsed or purchased.
What this new customer change mean to marketers?
What does this all mean for marketers? Above all, it means that just doing traditional marketing isn't a guarantee on reaching your targeted audience. Customer expectations are high, not just on what they want businesses to show them, but also how they interact with those businesses. As noted above
The purchasing process, especially for B2Bs, must include communication along the way, not just at the beginning or the end of the journey. Customers who are satisfied and have successfully resolved any issues with a brand are more likely to interact or stay loyal to that brand; as most businesses are aware, the opposite is also true – people are more likely to hear how badly a brand treated them as a customer.
While reaching out and acquiring new customers is important, it's equally as important to remember your current clientele. Harvard Business Review discovered that it's 5 to 25x more expensive to acquire new customers compared to retaining the ones businesses already have. Retaining a customer by 5% can increase profits by 25% to 95%.
Retaining a customer by 5% can increase profits by 25% to 95%.
The digital landscape means digital customers, not just those buying online, but how they interact with your brand. As mentioned above, this interaction happens across multiple devices and different platforms, including social media. Brands need to do the same, by connecting with their customers wherever they are and addressing their needs.
Resources:
Customer Experience Research Statistics 2018
Genesys State of Customer Experience Research
Customer Experience & Consumer Insights
The Integration of Marketing and Customer Experience
References
3 Content Marketing Trends That Will Rule 2018
2015 TechTarget Media Consumption Report: Guided by content – How IT buying teams navigate through the research and purchasing process