Save the Date for BOOM!2019
November 20, 2018

|

Buying Dynamics | Digital Strategy |

A few weeks ago, we hosted the first ever BOOM! Event, a B2B technology summit aimed at technology providers and marketing executives. This invite only immersive workshop delved into the mind of IT buyers, looked at new marketing solutions, and networked with industry leaders and local Change3 staff.
Kicking Things Off
Our event started off with an introductory dinner the night before for those incoming attendees that had just arrived. It was a great networking gathering, in a relaxed environment to greet some of our current clients and potential clients.
BOOM!2018
We were honored to have Chief Marketing Officer Kristi Salmon from Mediacom Business as our keynote speaker to start our day's summit. Kristi and Mediacom Business have long been a premiere partner with Change3 and Kristi gave an insightful and informative process of how Mediacom was able to transform their marketing efforts to the new digital landscape their business customers were using.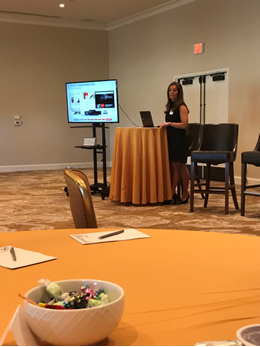 The journey from a company that wasn't online except for their website to the interactive posts and growth on social media was intriguing to hear and fascinating to watch.
Workshop #1 – Blowing the Mind of the CIO
What do IT buyers really think of B2B marketing efforts? What do they expect when it comes to communication for these executives?
The highlight of this workshop was hearing from actual CIOs Dr. Rebecca Winn and Steve Adey, as they detailed their dos and don'ts when it comes to actively marketing to them. It was an insightful panel that gave our attendees the chance to see the effect of their marketing - and sales – efforts have on their targeted audience.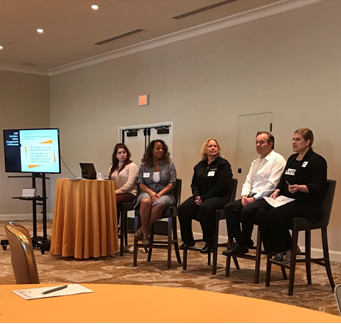 These panel insights were backed up by the studies done by our research arm of C3 Tech Targeting, on three different topics:
B2B Marketing Effectiveness
B2B Lead Generation & Nurturing
B2B Decision-Maker Engagement Preferences
The research discovered the high amount of unsolicited emails to executives, many of which do not actively target their specific role within their organization. Both Rebecca and Steve were upfront and candid about their experiences and what they expect from both the marketing and sales departments.
Workshop #2 – Mind-Blowing Marketing Tech You Can Afford
Our second and last panel focused on the tools of the trade – marketing software and solutions that marketers can use to better access and gain data, as well as different mediums to focus on. We brought in our partners from DiscoverOrg and OnMedia, while Andrew Small – our Director of Analytics and Digital Processes – discussed his experience with SharpSpring.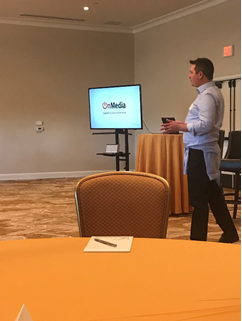 We ended our event with a relaxed dinner at the highly awarded and rated La Hacienda restaurant within the Fairmont Princess. It was another chance to meet with attendees and staff before saying goodbye and good night.
BOOM!2018 was an incredible success! We'd like to thank all of our attendees and panel speakers for their time and their expert insights. If you missed it, don't worry, as we're planning to do it all over again for BOOM!2019. Make sure you save the date for October.
References
3 Content Marketing Trends That Will Rule 2018
2015 TechTarget Media Consumption Report: Guided by content – How IT buying teams navigate through the research and purchasing process